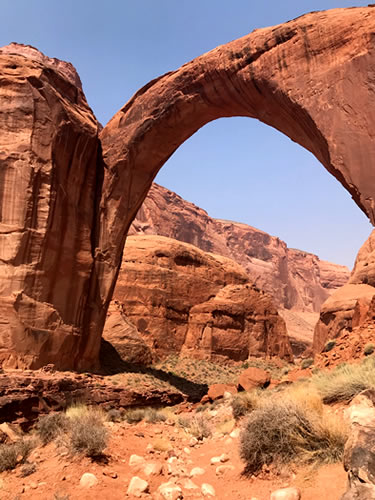 Here's a fun fact: Page, Arizona is one of the youngest cities in the United States, and both Phoenix and Las Vegas are equidistant at approximately a 5 hour drive away from Page.
At it's birth in 1957, Page was established as a home base for the workers who had been hired to build the Glen Canyon Dam. Initially the city of Page consisted of temporary housing and trailers that then morphed into permanent housing over time. No less than 12 different religious denominations sprang up in the area. These churches and houses of worship are still in place today on Lake Powell Boulevard that the locals often refer to as Church Row.
The town of Page Arizona is synonymous with Lake Powell, a man made reservoir on the Colorado river with over 1900 miles of shore line.  The lake itself was named after John Wesley Powell a geologist, scientist, Civil War veteran and well known adventurer, explorer and environmentalist.
The city of Page is directly adjacent to the Navajo Nation and it's the Navajo people who represent the largest segment of the population in and around the Glen Canyon area. The Navajo Nation is United States' largest Native American tribe.
Page provides the perfect base camp for exploring many of America's Southwest national parks and monuments, and more locally; Antelope Canyon, Lower Antelope Canyon and Horseshoe Bend.  For those with a more adventurous spirit may want to plan a excursion to Hole in the Rock, Alstrom Point or Rainbow Bridge!
So what are you waiting for?
Your amazing adventure awaits!